RELAY FOR LIFE SUGAR LAND
Newsletter #8
April 1, 2015
(View the PDF Version)
---
In This Issue
Let's Rock'n'Roll...Over Cancer
The Leader Board
2015 Sponsors
Something New This Year
Let's Get That Competitive Spirit!
Tentative Schedule for Relay
2015 Event Returning to Constellation Field
Luminaria Ceremony
Bank and T-Shirt Day
Relay for Life Supply List
Team Fundraisers
Calendar of Events
---
 Let's Rock'n'Roll...Over Cancer
JUST 9 more days until Relay! Are you ready to Rock 'n Roll? Maybe scream and shout?
THREE really nice baskets were donated last night for the Tin Can Raffle. Don't forget each team is asked to donate a basket or item for the Tin Can Raffle. Money made on the raffle will be credited to the team that donated the item. See page 2 for more details.
IN this issue you will find a tentative schedule for Relay, a list of the contests that will take place and a basic supply list. The schedule is still a little flexible, but it should give you an idea of what is planned for the evening. Please be sure to share the information with your teammates so they can plan to participate in some or all of the fun.
DON'T forget to remind your team to plan for all our fun laps. Some of the laps need some preplanning for costumes and other items. We also have several contests going on that your team or teammates may want to participate in. You will find a list of contests and the tentative schedule on page 2.
---
 The Leader Board - Top Fundraisers
| | |
| --- | --- |
| Top Individuals |   |
| Bobbie LaBarre | $5,225 |
| Lydia Bourg | 2,860 |
| Karen Humphrey | 2,633 |
| | |
| --- | --- |
| Top Teams |   |
| Team Aleheh | $7,329 |
| Victorious Fighters for Life | 7,311 |
| Mommas In Pajamas | 6,063 |
---
 2015 Sponsors
Silver Level
Charles L. Conlon  M.D., F.A.C.P.
Bronze Level
Fluor Corporation
M.D. Anderson
Signature Level
Auto Central, Auto Care Center Stafford, Texas
Early, McClintic and McMillan
WE APPRECIATE YOUR SUPPORT!!
---
Something New This Year
THE April 4 deadline for turning in your team's Tin Can Raffle item is just a couple of days away. Please contact Lydia Bourg at This email address is being protected from spambots. You need JavaScript enabled to view it. to make arrangements to deliver them to her.
IF you don't know what I am talking about, we are going to try something different from our usual silent auction this year. We are going to have a Tin Can Raffle. What is a Tin Can Raffle? It's similar to a silent auction, but a lot more fun! Everyone gets a chance to win.   Baskets or items will be set out on a table with a can or box corresponding to it.   Instead of having bid sheets for guests to place a bid and try to out-bid each other, guests will be able to purchase tickets and place their tickets in the containers. For example, a guest could purchase $5 or $500 or more in tickets and put all of their tickets in one can or spread them out by putting one or two tickets in several cans. When the raffle closes, a little after the Luminaria Ceremony, a ticket will be drawn randomly from each can. Winners will need to be present to claim their prize.  
EVERY year teams are asked to donate a basket for the auction. We will need your help to make this successful this year, too. We ask that each team make a donation to the raffle of some type of basket. Baskets usually sell better if they express a theme. For example, a gardening basket with seeds, gloves, hand shovel, kneeling pad; a scrapbook basket with paper, decorative scissors, stickers, etc. Be creative and have fun with it. They are some really great ideas on Pinterest. Some are a little over the top but they are a good inspiration. Once you have put a basket together you can pick up a shrink-wrap bag at any Hobby Lobby or Michaels to drop your basket into. Once it is closed please put a list on the outside so people know what it contains and place a value on the list as well. After the drawing the tickets will be counted from each can and the team donating the corresponding basket will get credit for the money raised from those tickets.
THIS has become a very popular fundraiser for lots of school and charitable organizations. It's always so much fun to get your name pulled out of a drawing!
---
LETS GET THAT COMPETITIVE SPIRIT!
Are you competitive? Let's just see how competitive you are with some fun competitions. The following competitions will take place at Relay this year:
Best survivor sign…Sign will be judged on originality and content
Best team sign…Sign will be judged on originality, content & spirit
Rock Star Contest…Dress as a Rock Star from your favorite decade, i.e. Elvis, Kiss, Lady Gaga etc.
This is going to be fun!!!!!!
 We are even having a Lap contest….
Team with the most laps at midnight
Team with the most laps at close of the event
Individual with the most laps at midnight
Individual with the most laps at close of the event
 Don't forget to check out the Luminaria competition going on now. Details in the Luminaria Ceremony on below.
---
TENATIVE SCHEDULE FOR RELAY
| | |
| --- | --- |
| 6pm | Opening Ceremony |
| 6:30pm | Survivor/ Caregiver Lap |
| 6:45pm | Survivor dinner, Elvis Meet and Greet, Hands for Hope |
| 7pm | Elvis Impersonator |
| 7pm | Rock N Roll Groupie Lap |
| 8pm | Gift unwrap |
| 8:45pm | Western Lap |
| 9pm | Luminaria Ceremony |
| 9:30pm | Silent Lap |
| 9:30pm | Praise Dancers |
| 9:50pm | Fashion Police Lap |
| 10pm | DJ |
| 11pm | Relay Rock Star Contest |
| 11:45pm | Make Some Noise Lap |
| 12am | Record Ring Toss, Spirit of Relay |
| 12:45am | Bubble Lap |
| 1am | Water Balloon Toss, Bubble Gum blowing contest |
| 2am | Zumba |
| 2:45am |  Hula Hoop Contest |
| 3am | Lawn Games and Root beer Floats |
| 4am | Breakfast Tacos and I Love Lucy? |
| 5am | Fight back/ Closing |
 As you can tell our entertainment leads have some fun planned for us. Please remember this is a tentative schedule and things could change between now and Relay. 
---
2015 Event Returning to Constellation Field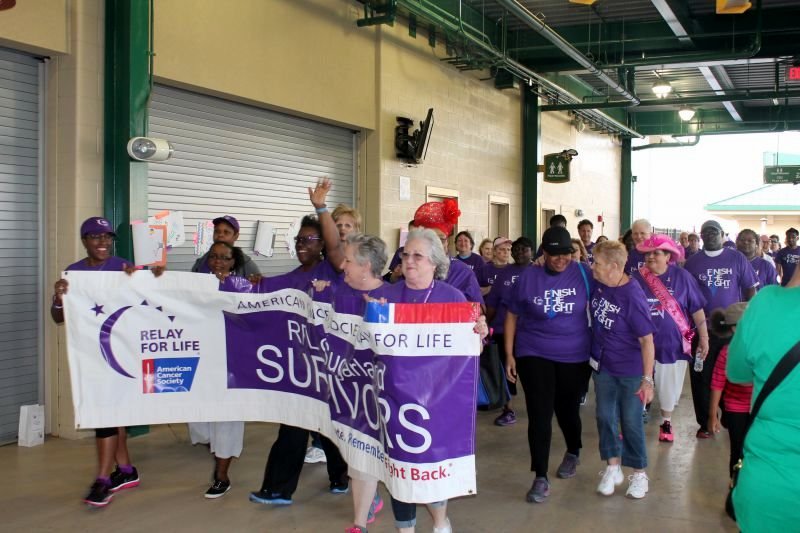 RELAY FOR LIFE, SUGAR LAND 2015 will be held at Constellation Field on April 10 – 11! Once again this year our Relay is a 12-hour event, 6PM – 6AM. Is your team a group of Night Owls, staying the full 12 hours, or are the Early Birds, staying for the 6-hour event - 6PM – 12AM? Of course we would love to have everyone commit to the full 12 hours. Please talk to your team and let me know.
---
Luminaria Ceremony
OUR PowerPoint Presentation is done and in the hands of Constellation Field!
MOST Relay participants know that the Luminaria Ceremony is a very special time. We join Relayers around the world as we walk the path with the Luminaria are lit along our path. The Luminaria Ceremony is a time of quiet reflection to Remember, Honor & Celebrate our loved ones who have experienced cancer. We ask that everyone join us in the visitor's seats about dark for a small ceremony and PowerPoint presentation. Please remind your teammate that everyone is asked to stop walking laps and join us for the ceremony.
PS…DON'T forget new this year we are having a luminaria contest. There will be a prize for the person and the team that sells the most luminaria. The contest began on February 25. Online purchases will end at midnight on April 6 and hand delivered purchases can be turned in until the end of Bank Night on April 7. Please encourage your team to sell Luminaria.
LUMINARIA can still be purchased at Relay with funds credited to the event.
---
Bank - T-Shirt Day
Tuesday, April 7, 2015 from 4:00 pm to 6 pm at Wells Fargo Bank - 4660 Highway 6, Sugar Land, TX 77478 - at corner of Highway 6 and Dulles/Austin Parkway.  What is this?  It is a come and go event - drop by anytime from 4:00 p.m. to 6:00 p.m. PLEASE bring by any team things you have and turn them in. You can pick up your Team Captain and Team t-shirts. Team/Event t-shirts are awarded to all Rising Star fundraisers - someone who has raised $ 100 or more. 
If you need to turn in money before April 7 please contact This email address is being protected from spambots. You need JavaScript enabled to view it. to make arrangements.
---
RELAY FOR LIFE SUPPLY LIST
 Each team will want to adjust this list to their needs. This is a basic list of things that your team will need/want to bring. The most important thing to bring is a smile!
RELAY FOR LIFE ITEMS.
Please bring any money collected and not turned in.
On-site fundraising items and cash to make change.
Bubbles for the "Bubble" lap. (Sugar Land Steppers will be selling these at Relay, also)
Noise makers for the "Let's make noise" lap.
Contest related items

Posters/Banners
Decorations for campsite
Costumes for the "Groupie" lap, "Western" lap and the "Fashion Police" lap.

Money, checkbook or credit card -- Teams will be having fundraisers you will want to support. As well as you will want to by tickets for the Tin Can Raffle items! 
 CLOTHING.  It can be hot, it can be cold, it can be wet, or it can be dry.
Windbreaker or jacket
Sweater
Extra pair of socks and shoes—this is really important if it rains or if you feet get sore.  A pair of flip-flops or sandals for when you are not walking can be nice.
Hat & gloves
Rain gear
CAMP GEAR.  Since this is an overnight event we will be camping.  Camp sites are chosen on first come, first served.  Set up begins at 4 p.m.  NO EZ UP CANOPIES OR TENTS ARE ALLOWED IN THE PARK.   You can bring the bubble type tents that do not need staking down. NO GENERATORS OR FLAMABLE ITEMS ARE ALLOWED IN THE PARK.
Chair -- Bring a chair that you are going to be comfortable in.  You will be using it off and on all night.  The chaise recliner lawn chairs are really nice for Relay if you have one.
Table
There is power available on the concourse so you need may bring electrical cords. Please be prepared to cover cords to avoid tripping hazards.
Battery powered lantern and extra batteries.
Flashlight with extra batteries
Sleeping bag and/or blanket
Pillow
Mosquito spray
 FOOD.  We may or may not have food available at Constellation Field due to permit rules so bring your own. 
Ice Chest & ice
Water, soda and/or juice
Food
Paper products – plates, napkins, silverware, cups, Kleenex and paper towel. Clorox wipes are nice to have.
COMFORT.  We do our best but supplies can run out.
Hand sanitizer
Mosquito repellent
Sunscreen
Toiletries
MISCELLANEOUS
Safety pins
Sewing Kit
First Aid Kit
---
Team Fundraisers
SUGAR LAND STEPPERS are selling flashing purple glasses, flashing purple bracelets and bubbles. Contact Lydia at This email address is being protected from spambots. You need JavaScript enabled to view it. to purchase glasses, bracelets or bubbles.
MOMMAS IN PAJAMAS are selling novelty pillowcases and tickets for their opportunity quilt at Quilter's Emporium, 11925 Southwest Fwy., Stafford, on Saturday, April 4, 10:00 AM - 5:00 PM. We hope you can join us!
HOPE CLUB…Each participant that raises $100 or more will become a member of ACS RFL's new Hope Club!
THE NIGHT OF RELAY
 Mommas in Pajamas….Novelty pillowcases & tickets for their quilt
Sugar Land Steppers…Flashing glasses, bracelets & bubbles
Other teams will be setting up games for kids to play, Relay items, snacks and other items.
Please remind your team members to bring cash, checks and charge cards, there are lots of goodies they may want to purchase.
---
Calendar of Events
Date

Time

Event

Location

April 4

 

DEADLINE TO TURN IN TIN CAN RAFFLE ITEMS
Contact Lydia Bourg at

This email address is being protected from spambots. You need JavaScript enabled to view it.

April 4

10AM-5PM

Mommas in Pajamas Fundraiser

Quilter's Emporium
11925 Southwest Fwy., Stafford

April 7

4PM - 7PM

Bank & T-shirt Night

Wells Fargo Bank
4660 Highway 6, Sugar Land

April 10 – 11

6 PM– 6 AM

RELAY FOR LIFE

Constellation Field
1 Stadium Dr.
Sugar Land

TBA

 

Wrap Up Party

TBA
Please feel free to print or email this newsletter to fellow teammates, family, friends or co-workers.